Mazda ECU Remapping
BT-50
ECU remapping solutions are available for all vehicles listed below, If you don't see your vehicle listed please use the contact form at the bottom of the page to find out what tuning solutions we have available for your vehicle.
Ask about our range of performance upgrade packages available including Intercooler Kits, Exhausts and Intakes.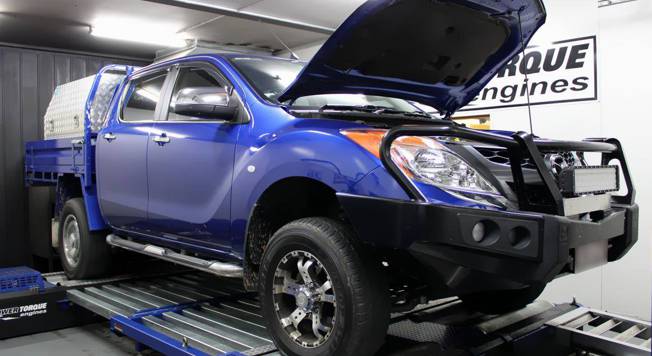 BT-50 (2011-2017)
Engine: 3.2 Litre T/D
Standard: 147 Kw
Standard: 470 Nm
SuperTech: 182 Kw
SuperTech: 635 Nm
BT-50 (2011-2017)
Engine: 2.2 Litre T/D
Standard: 110 Kw
Standard: 375 Nm
SuperTech: 138 Kw
SuperTech: 453 Nm
BT-50 (2006-2011)
Engine: 3 Litre T/D
Standard: 115 Kw
Standard: 380 Nm
SuperTech: 149 Kw
SuperTech: 480 Nm
BT-50 (2010-2011)
Engine: 2.5 Litre T/D
Standard: 105 Kw
Standard: 330 Nm
SuperTech: 130 Kw
SuperTech: 418 Nm
Benefits
A SuperTech remap will usually result in 20% more power, 20% more torque, and a 5% reduction in fuel consumption. Because each vehicle is tuned individually figures may vary depending on your specific requirements. ECU remapping is particularly beneficial for improving fuel economy when towing, and for vehicles that have undergone aftermarket modifications.
Any Questions?
If you have any questions about your Diesel Tuning requirements, please do not hesitate to get in touch with us. We pride ourselves on our experience and depth of knowledge.